PharmARC
is a leading provider of sales and marketing analytics, and business consulting services to the global pharmaceutical & healthcare industry.

LSA Studies
, a SAP Consulting, Outsourcing and accredited specialist Training Institute. LSA Studies is best known for the provision of expert training & professional services, consultancy-based culture focused on problem solving and technology development.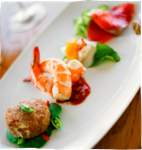 Malabar Kitchen
is a small caterer based in Birmingham, UK. SPT designed, developed and operates their web and e-mail servers. Also designed brochures and other marketing material for the company. SPT has developed a recipe and inventory management desktop application for Malabar Kitchen.

The Thiruvananthapuram chapter of
ISNT
was started as Trivandrum Section of Nondestructive Testing Society of India (NDTSI) on September 21, 1978, by the efforts of a small group of scientists and engineers of Vikram Sarabhai Space Centre.

The
Indian Institute of Metals
(IIM) is a premier body representing the family of professional metallurgists in India.The IIM, Trivandrum Chapter was established in 1979. Today it has become a nodal platform for the metallurgists, technologists and engineers of the chapter covering R & D organisations like VSSC, NIIST, LPSC, SCTIMST and industries like KELTEC, IRE and Carborundum Universal with active 100 members.
VSSC at Thiruvananthapuram is the major center of ISRO, where the design and development activities of satellite launch vehicles and sounding rockets are carried out and made ready for launch operations. The centre pursues research and development activities for associated technologies such as launch vehicle design, propellants, solid propulsion technology, aerodynamics, aero structural and aero thermal aspects, avionics, polymers and composites, guidance, control, and simulation, computer and information, mechanical engineering, aerospace mechanisms, vehicle integration and testing, space ordnance, chemicals and materials.